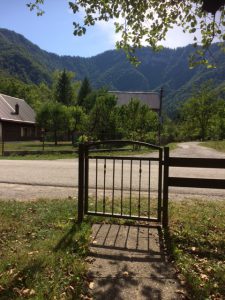 The nature of the fence
A lion was taken into captivity and thrown into a concentration camp where, to his amazement, he found other lions who had been there for years, some of them all their lives, for they had been born there.
He soon became acquainted with the social activities of the camp lions. They banded themselves into groups. One group consisted of the socializers; another was into show business; another was cultural, for its purpose was to carefully preserve the customs, the tradition, and the history of the times when lions were free; other groups were religious — they gathered mostly to sing moving songs about a future jungle where there would be no fences; some groups attracted those who were literary and artistic by nature; others still were revolutionary, and they met to plot against their captors or against other revolutionary groups.
Every now and then a revolution would break out, one particular group would be wiped out by another, or the guards would all be killed and replaced by another set of guards.
As he looked around, the newcomer observed one lion who always seemed deep in thought, a loner who belonged to no group and mostly kept away from everyone. There was something strange about him that commanded everyone's admiration and everyone's hostility, for his presence aroused fear and self-doubt.
He said to the newcomer: 'Join no group. These poor fools are busy with everything except what is essential.'
'And what do you think is most essential?', asked the newcomer.
'Studying the nature of the fence.'
De mind
The fence is natuurlijk de mind. De mind is het vermogen te denken. Dit vermogen draait in het brein of onder de regie van de angstcentra of onder jouw regie. Als het onder regie van de angstcentra draait produceert het programma's die erop gericht zijn ons tot vechten of vluchten aan te zetten. Het bewijs dat dit aan de hand is in jou zijn negatieve gedachten met de bijbehorende emoties die klote voelen. In ieder moment dat jij je rot voelt ben je weg uit essentie. Dit rot voelen gaat geautomatiseerd: je brein herhaalt op de automatische piloot steeds dezelfde reacties.
Als het vermogen te denken onder beheer is van essentie voel je je top, energiek, bewust, tevreden en alle andere gevoelens die het leven tot een dansfeest maken. Essentie gedreven leven is leven wie je werkelijk bent. Als je in die staat van zijn bent voel je je goed, wat de omstandigheden ook zijn. Het denken is in deze staat van zijn stil tenzij jij het denken nodig hebt. Het denken gehoorzaamt jou.
Het is een hele toer om van het geautomatiseerde mind denken te transformeren naar leven vanuit je essentie. Jan en ik hebben als levenswerk de weg te vinden uit de rimboe van de mind naar de diepten van het bewustzijn. Het brein met daarin de mind speelt hierin een cruciale rol. Het brein faciliteert het bewustzijn, ons lichaam is de klankkast.
Drie maanden brein- en bewustzijnstraining
De kloof tussen ongelukkig zijn en het verlangen naar geluk kun jijzelf dichten. Wij leren je hoe. In drie maanden heb je de kennis, de technieken en de ervaring om het werk te doen.
Het bevrijdt, het geeft energie, je vermogen lief te hebben neemt toe, je creativiteit gaat sky high, je stress verdwijnt en je problemen verdampen. Het leven hoort een dansfeest te zijn en de aarde het paradijs. Ga niet voor minder. Je leeft dit leven maar 1 keer.
Eugenie
06 14 17 70 37